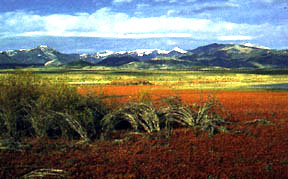 While living in Arizona, we took a brief trip to Vegas. On the way out to more civilized destinations (Zion and Bryce National Parks in Utah), we managed to take a one-mile detour to pick up a second county. I did not see anything as spectacular as the Great Basin scene shown here, but I have been doing a lot of reading about the fascinating intermountain region.
So far, I have visited the counties shown in yellow.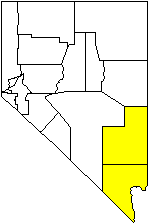 I have been to 2 out of 17 counties in Nevada.
For a very clear map with the county names, visit Delorme's Nevada Counties page.

Return to my home page.