On the same road trip in which I made my sole visit (so far) to neighboring states, we discovered that the economy of southernmost Mississippi is dominated by casinos. They are building hotels as fast as they can, but if you plan to visit, make a reservation.
In April 2001, Mississippi voters chose overwhelmingly to retain the Confederate battle flag as part of their state flag. No other state retains this divisive symbol, but Mississippians point out that in Georgia and South Carolina, it was removed by the legislatures, and was not put to a general vote.

I try to say something a bit more positive about each state, so I will mention the the Mississippi Writers Page at the University of Mississippi. The state has a proud heritage in literature, and this site provides a lot of information about the authors, their works, other institutions, and events.

Here is something else positive: As with 49 other states, Mississippi spends more per capita on public higher education than Massachusetts does.

So far, I have visited the counties shown in yellow. I look forward to returning some day to find out some more of the good things about Mississippi. I'm open to suggestions!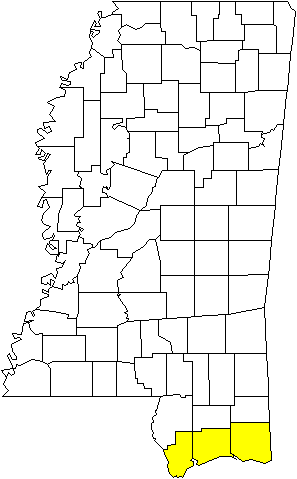 I have been to 3 out of 82 counties in Mississippi.
For a very clear map with the county names, visit Delorme's Mississippi Counties page.

Return to my home page.