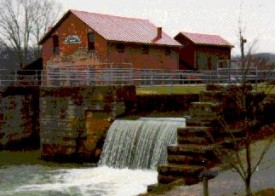 I never lived in Indiana, but we spent three years in Southwest Ohio, and had many chances to explore the Hoosier State. One of our favorite places to visit in Indiana was Old Metamora, an historic canal town not far from our home in Oxford, Ohio.
A geographic oddity in Indiana is the variety of time zones. The situation is too complex for me to explain here. Just go to the What time is it in Indiana? site for a thorough explanation.
About a year after she was born, we realized that we should have named given our daughter Paloma the last name "Beanblossom," after my wife Pam's grandmother. Beanblossom is a family name, and the name of a town near Bloomington, Indiana, which has some connection to Pam's family. On our visit there in 1998, we learned the one thing it is famous for: the Bill Monroe Beanblossom bluegrass museum, with its annual bluegrass festival.
So far, I have visited the counties shown in yellow.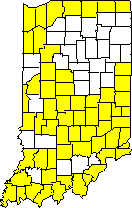 I have been to 60 out of 92 counties in Indiana.
For a very clear map with the county names, visit Delorme's Indiana Counties page.

Return to my home page.