We did not get off of I-30 during our 1997 speedy (those people like to drive FAST!) visit through Arkansas, except in "a town called Hope."

So far, I have only visited the counties shown in yellow. A student from Arkansas has offered to give some pointers before my next trip. I look forward to it, and promise to take a slower road!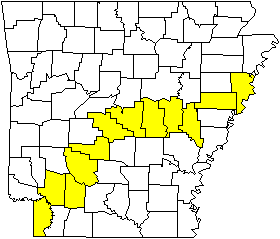 I have been to 12 out of 75 counties in Arkansas.
For a very clear map with the county names, visit Delorme's Arkansas Counties page.
Do you have a postcard of Arkansas? If so, please visit my State Postcard Collection page.

Return to my home page.