I have never been to Alaska - one of four states I have not yet visited. All I know about Alaska I learned quite a few years ago from the remarkable book Coming Into the Country, by John McPhee - the best writer in America (IMHO*).
Actually, I have a piece of Alaska in my office - two jars of evidence (contaminated beach sand) from the Exxon Valdez court case. After the trial, the government of Alaska sold the jars as souvenirs to avoid having to dispose them as hazardous waste.

On December 1, 2002, NPR aired a special report about Mardy Murie, whose passion for the northern wilderness was crucial to the establishment of the Arctic National Wildlife Refuge and other protected spaces in Alaska.

State of Alaska Online explores the last frontier.
Explore the northernmost state with the U.S. Geological Survey.
So far, I have visited the boroughs shown in yellow.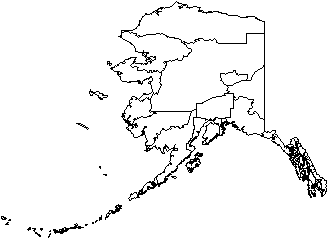 I have been to 0 of 16 boroughs in Alaska.

For a very clear map with the county names, visit Delorme's Alaska Counties page.

Return to my home page.
*IMHO = In My (Ever) Humble Opinion