On our first visit to Maine, we were fortunate to find my geography professor from UMBC, Dr. John Starr, who has retired from teaching and now operates the beautiful Bayview Gallery in the coastal town of Camden.
My second visit to Maine was in October 1999, when I joined colleagues and students from my department to attend a NESTVAL conference hosted by the very hospitable geographers at the University of Maine - Farmington. This conference is held somewhere in New England or the St. Lawrence Valley every fall. My department at Bridgewater will host the conference in New Bedford in the Fall of 2001.
My third visit to Maine was the best so far. My geographer buddy Karl invited us to stay at his sister's cabin in Fryeburg (Oxford County). We had a wonderful visit with Karl and his sister's family. We visited nearby Kezar Lake, to which I knew I had a family connection (my middle name is Kezar, after my great-great-great grandmother, Fannie Kezar). I was stunned to find that not only is there a lake (and a pond and a waterfall) named for my family, but there is a pub named for my Ebenezar Kezar. I have a direct ancestor by the same name. I have not yet figured out the connection to this character, but there must be one! Although the pub was not open for business when we dropped by, the owner graciously gave us a tour and a lot of information. Kezar Lake is also the setting for Stephen King's Bag of Bones.

In the process of looking for more information about the name Kezar (Google.com lists over 7,000 web pages!), I found James, Kezar, Hayes, and Bohannon soils in other parts of the country. Check the official soil series list at Iowa State University to see if they have the dirt on your family!

The closest I will come to
having my own pub.
Any geographer visiting Maine should stop in Yarmouth to visit Delorme, a leading map and mapping-software company with the world's largest operating globe in its lobby!

If you venture to the northern county of Aroostook, be sure to look for the Maine Solar System Model. At a scale of 1:93,000,000, it is the largest scale model of the solar system in, well, the solar system!

So far, I have visited the counties shown in yellow.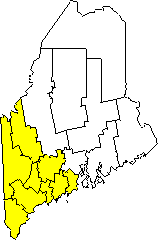 I have been to 9 out of 16 counties in Maine.
For a very clear map with the county names, visit Delorme's Maine Counties page.

Return to my homepage.